When Every Dollar in Your Business is ESSENTIAL
The old saying 'The greatest trick the devil ever pulled was convincing the world he didn't exist" is certainly apt for the marketing strategy of big banks and card issuers hiding the reality of merchant fees to small businesses.
Saturation of the Cashless Message
For years, millions have been spent on marketing in relation to contactless and cashless economies and the ease of transactions for the consumer. This has been so effective that many consumers have no understanding that transaction processed through an EFTPOS machine or Tap & Go incur fees to the business owner.
A quick google search of the term "contactless payments Australia" will demonstrate that the Big 4 banks, Visa and Mastercard and all jostling to influence this space (all on page 1 of a google Search). And the reason is simple. There is 100's of millions of more dollars for the banks to encourage contactless payments over cash purchases. And its small business who wears the cost of this.
The Reality of Contactless Payments
New analysis from the Reserve Bank of Australia reveals the proportion of electronic transaction fees collected from businesses accepting tap-and-go payments has exploded over the last three years, creating a huge cost shift away from consumers and onto smaller business.
Within RBA's Bulletin, evidence of the shift showed Bank fees charged to households decreased by 7 per cent in 2018, after having grown moderately in recent years however but this was largely offset by higher fee income from small businesses."
In simple terms, fees previously incurred by consumers accessing money through ATMs has now been replaced by small businesses paying merchant fees per transaction.
According to the RBA, "total fee income from businesses increased by 9 per cent in 2017, almost entirely due to higher fee income from small businesses". The Central Bank continued "the main driver for growth in fee income from businesses was the continued increase in income from merchant service fees on card transactions,"
The graph below shows the year on year growth in Business Fee income. Interesting the growth over the last 3 years shows a significant growth in the fee income derived from small businesses.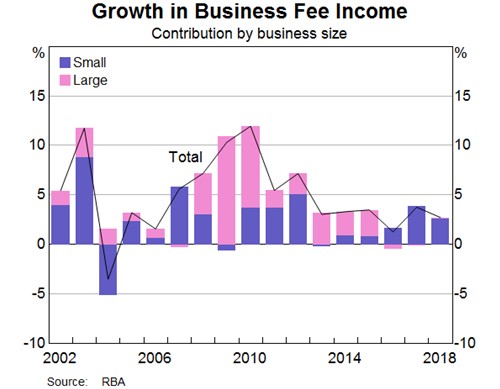 In times when every dollar in a business is essential, why should a small business be required to hand over a percentage of every sale to the bank for the privilege of processing a transaction?
Sadly, the big banks, VISA and Mastercard have also targeted small businesses to extract these high merchant fees. Large businesses like Coles and Woolworths are able to apply hefty interchange discounts by virtue of their scale. So not only do small convenience businesses & independent grocers have to compete with the Coles & Woolworths in terms of price of goods, they also lose out in terms of merchant fees as they have to increase the prices of goods to cover those costs.
When every sale is essential, is it fair that you are being burdened with additional costs that your billion-dollar competitors don't have!
So what are your options When Every Dollar is Essential?
Covid-19 has highlighted now more than ever the importance on cash flow into a business. Cash provides you with the physical capability to action the important day to day costs in your business. Your cash is easily accessible whereas when its debited into a bank account, this income is now added into a pool of funds that also needs to service direct debit obligations, tax obligations etc.
Only cash provides you with the privacy and autonomy to manage your business at any time, how best you see.
One Solution which Dash ATM can assist with is making the availability of cash in your clients hands easier. Dash ATM provides our clients with ATMs to suit all businesses. From small foot print single denomination ATM's suitable for take away food shops etc to larger, big screen multiple denomination ATM's we have installed in busy convenience stores and pubs.
The ATM used in collaboration with effective customer service & education becomes an extremely effective tool to encourage cash transactions over your counter. Our clients who have successfully implemented our ATM strategy have not only reduced their merchant fees, but now have an incoming revenue stream via their ATM. For a small business recovering from the implications of Covid-19, this outcome is essential for their ongoing viability.
WHEN EVERY DOLLAR INTO YOUR BUSINESS IS ESSENTIAL, ONLY CASH PROVIDES YOU COMPLETE CONTROL OF YOUR BUSINESS OPERATIONS.
DASH ATM SERVICES – Info@dashatm.com.au
---
At Dash ATM, we support businesses in providing an ATM solution to their clients. Our market leading ATM solutions focuses on service and user experience to ensure the ATM is a seamless addition to your business.
Learn Our 5 Steps to ATM Sucess – 5 Step ATM Success PDF